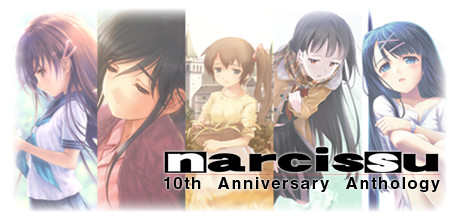 The Narcissu 10th Anniversary Anthology Project is a continuation of the Narcissu series on Steam. The Narcissu Anthology Project was funded on Kickstarter to localize the rest of the Narcissu series which was previously unavailable to western audiences. The base game titled Narcissu 10th Anniversary Anthology Project currently only includes Narcissu 1st and 2nd along with the addition of Himeko's Epilogue which is new to Steam. Himeko's Epilogue gives the player more details about the events that take place in Himeko's life leading up to her final moments. The base game for the Anthology Project was published to Steam January 2016 after its highly successful Kickstarter project. The rest of the Narcissu series will be released at a later time as DLC for the base game. Along with the rest of the series, it was previously released in Japan we will also receive a Steam exclusive Narcissu visual novel titled Sumire which will also be released as DLC.
Narcissu 1st and 2nd are both tragic stories surrounding a young woman named Setsumi who is terminally ill. Narcissu 1st begins on the seventh floor of a hospital where they keep the terminally ill patients who are limited on time. On the seventh floor a young man who recently fell ill meets Setsumi who is determined that she doesn't want her last moments to be in the hospital or at home. Soon he takes Setsumi out of the hospital and they begin their journey together. Setsumi has an interesting personality that was greatly shaped by a woman who she met several years earlier. In Narcissu 2nd the player gets to see the relationship between the fifteen year Setsumi and Himeko who was a great influence on her. Himeko is gone already during the time which Narcissu 1st takes place but several of her hobbies rubbed off on Setsumi. Setsumi grew to enjoy cars, travel, and most importantly a beautiful flower called the Narcissus due to Himeko's love for those things. Going to see a beautiful field of Narcissus becomes Setsumi's dying wish and the final destination for Setsumi in Narcissu 1st.
In Himeko's Epilogue we get to see more of the events surrounding Himeko during her final days. Himeko's Epilogue is the story of Himeko's final moments through the eyes of her dearest friend Yuka. Yuka and Himeko are both young women in their twenties who had been friends for most of their lives. Yuka is a person who knows what she wants but keeps it hidden out of fear that people will dislike her. Although Yuka is unafraid of losing her job she continues to put up with her boss and coworkers after they pressure her to stay at work longer. Yuka's boss asks her which is more important between work and her best friend. Himeko shows us a more powerful and stubborn side of herself as she tries to help her friend gain the strength to speak her feeling. Himeko keeps just enough strength to help her friend and even leave the hospital in an attempt to force Yuka to reveal her true feeling to her boss. Himeko eventually becomes unable to leave the hospital and spends much of her time asleep after her drip is changed but Yuka continues to visit her until her very last day. Himeko's story is very important due to her influence on the younger and more fragile Setsumi.
The Narcissu series is an emotional series surrounding themes of life, death, and the unbreakable bonds between the living and the departed. Each of the characters has their own personality which is shaped by their own experiences as well as their deep connections to those closest to them. Along with the beautiful stories and the memorable characters we are also given a beautiful soundtrack with the same range of emotion as the story itself. The art isn't particularly special but it definitely does its job to make the story simple yet emotional. Narcissu is full of emotions that are very natural and realistic in comparison to most other visual novels. There is minimal animation but the art itself is enough to give the visual novel movement and emotion. Every element of this beautiful and emotional series comes together in a way that creates a powerful and emotional set of games unlike any other before it. 
I highly recommend the Narcissu Anthology Project to those who have played Narcissu 1st and 2nd for free on Steam but hope to get more from the games. For the low price on the base game I recommend it to newcomers of the series since the addition of Himeko's Epilogue gives more closure and a deeper look into her life. Himeko's Epilogue is worth the price tag due to its even more emotional story and the closure it gives after Narcissu 2nd. While it's disappointing that the only addition so far is Himeko's Epilogue it is still exciting to wait and see how great the rest of this beautiful series will turn out. The quality of this release in comparison to Narcissu 1st and 2nd makes me hopeful that the rest of the series will be even more beautiful.
Pros: Beautiful Artwork, Intricate Story, Captivating Soundtrack
Cons: Lack of Character Screen Time
SCORE – 9.5/10
This review is based on a purchased digital copy of Narcissu 10th Anniversary Anthology Project on Steam.