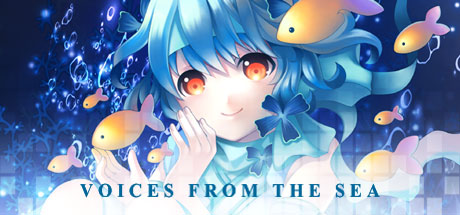 Voices from the Sea is an innocently beautiful and heartwarming visual novel developed and published by Zeiva Inc on September 16, 2014 to Steam as one of very few free visual novels. The game features a very clear and colorful art style along with a simple yet soothing soundtrack that makes the game very relaxing and enjoyable to play, the colorful art is accompanied by an array of simple yet well executed movements that are quickly noticeable from the start of the game such as the gentle sideways movement of the clouds and the gentle clashing of ocean waves against the sand in the background. The soundtrack is limited but not one you easily get tired of and consists of beautiful songs that bring life to world the visual novel is based in. This visual novel is perfect for anyone interested in more meaningful stories filled with realistic sound and sights that feature a smaller cast of relatable characters. Another great thing about this visual novel is the simple to use menu making it is easier to save the game, load from a different point, or change sound settings with the menu at the top of the screen rather than having to find out which key on the keyboard you have to press just to save the game.
The story begins with a distant and friendless young boy named Cantus who enjoys the sounds and sights of the sea, he remains distant as he continues to view talk from others around him as unwanted noise. One day while Cantus is standing by the ocean he begins to hear a voice in the distance, as the voice becomes louder and clearer a girl who is much like the sea appears and introduces herself as Maris. Maris asks Cantus if he does not have many friends and decides to be his very first friend, somehow even though she is quick to annoy Cantus he still manages to quickly warm up to her and even makes an attempt at impressing her to no avail. During a certain point of the conversation you can make choices and interact with items as the character searches for sea shells to give to Maris, the shells you can collect change each time and each shell has the potential to get a different response from Maris. As they continue to meet each other at the beach every day Maris tries hard to make Cantus smile but fails due to their different ideas of humor, both of which really can't be seen as humorous at all. The main characters are easy to relate to and have clearly defined personalities with room for growth at the beginning.
While the game is so short it is easy to see how much the characters grow after each meeting, while the focus is primarily on Cantus and his progress it is still obvious by the end of the game that Maris grows a little too. The game also leaves you guessing about who or what Maris really is, so much mystery surrounds her leaving many aspects of the character's lifestyle to the player's imagination. While Maris leaves people questioning who she is the game still manages to keep much of the focus on Cantus and his daily life. Through much of the beginning it shows static on the screen to give a better idea of how he feels about other people as they talk to him, but when he is around Maris the static is gone and things in his life slowly become clearer as each day with her passes. Another import object in the game that points to how Cantus feels towards other people is the headphones he always has on to keep people from talking to him but there are times throughout the game where he takes them off his ears when he is around Maris. As disappointing as it may be to some players there is absolutely no romance in this game, the game is focused on a friendship between two young 13-year-old teens that results in character growth and this aspect keeps the story more innocent and heartwarming.
Voices from the Sea is a visual novel that is beautiful in every way from the soundtrack to the characters and turns away from the unsavory and pointless style which is seen in many other titles recently released within the same category, this game is perfect for those who enjoy more heartwarming and beautiful visual novels such as those from developers like Key or stage-nana. Even for anyone that is unsure if they will like the game it is worth a try since it is one of the rare few good visual novels which are offered for free on Steam thanks to the generosity of its developer. The only bad points are that it is short and leaves you wanting more and it is far more linear than many other visual novels, but for those that enjoyed the visual novel Narcissu it may not be a bad thing after all. But you can't go wrong with a game that has great art, a great story and a beautiful soundtrack that adds atmosphere and deep emotion.
SCORE – 80%
This review is based on a free digital copy of Voices from the Sea on Steam