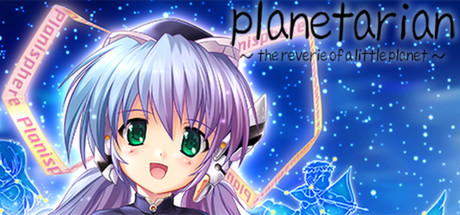 Planetarian is a visual novel developed by Key that was originally released in 2004 on PC before it was ported to the Playstation 2, PSP as well as the Android and iOS devices. Thanks to the efforts of Sekai Project and VisualArt's/Key, the long anticipated wait for Planetarian is over as the visual novel is now available for purchase on Steam to the delight of countless visual novel fans. Celebrating its tenth anniversary since the original Japanese release, Planetarian features full Japanese audio with English subtitles along with beautiful character design and artwork.
You start the game as an unidentified man in a post-apocalyptic world ravaged by nuclear warfare as a result of overpopulation, shortage of natural resources and the catastrophic failure of the Space Exploration Project. All that remains of a proud civilization are dark and desolate ruins surrounded by monolithic war machines programmed to kill any and all intruders caught trespassing in the hazardous city grounds. Among the few survivors of the human race, those able to scavenge and pillage any items of necessity to ensure their survival are known as "junkers".  You are a middle-aged junker and after a narrow escape while scavenging, you seek refuge in a building and meet Yumemi Hoshino, a friendly female robot looking after an abandoned planetarium. Despite your brash and distrusting nature, Yumemi does everything in her power to welcome and make you feel at home as you are the first customer to arrive in 30 years. With much of the world left in chaos and ruins, you gradually warm up to her as she is the only source of companionship you have in your fight for survival.
Planetarian is a kinetic visual novel as there are no choices or decisions made with only the natural progression of the story. Both characters are voiced with the option to select the desired font for the conversational dialogue between you and Yumemi. The character animations are simple and well suited as Yumemi displays natural and believe expressions while conversing with you from the first meeting to the very end of the game. As the junker, you are cautious of Yumemi at first glance as you barely survived the attack of a looming war machine just moments earlier. As she sports a very warmly and bubbly persona, you let down your guard while trying to make sense of the situation as to who she is and why she is alone. Her initial greeting catches you off guard as she happily declares you are the 2,500,000th customer and invites you to witness a show made possible by the large projection device known as "Miss Jena". Despite continued instances where you try to leave the planetarium, Yumemi convinces you to stay as she makes your safety and happiness her top priority. As you learn more about Yumemi and the history of the planetarium, it is clear to you that Yumemi is malfunctioning, a fact that she herself acknowledges in conversation and in action. With this knowledge in mind, you agree to stay with her as her time as a robot is both short and limited.
With five save slots at your disposal, Planetarian can be leisurely enjoyed at your own pace as the game takes only a couple hours to complete. In direct contrast to visual novels that tend to overload players with endless scenarios, prolonged dialogue and numerous cutscenes, Planetarian is a softer visual novel that speaks to gently from the heart and once it takes hold of you, it is very difficult to put down as you become emotionally invested in its post-apocalyptic world. The words spoken by Yumemi:
 "Why don't you come to the planetarium?
The beautiful twinkling of eternity that will never fade, no matter what.
All the stars in the sky are waiting for you."
There is no romance to be found as much of the focus lies in the character development and platonic relationship between you and Yumemi. Planetarian is an all ages visual novel with no adult scenes but one that evokes a very touching emotional bond as you come to care for Yumemi as she tirelessly spends her time treating you like a highly valued customer. Though the story may be predictable at times, you can't help but feel a sense of warmth and joy from Yumemi while grasping the truth that she isn't human at all. As Yumemi requires power to operate, it surprises you to learn that the planetarium still receives electricity with all the other floors of the building lying in devastated ruins. You find yourself under her care and even offer your services to repair "Miss Jena" as Yumemi wishes for you to enjoy a show on the projection screen. After much time spent in repair work, you are able to restore the projection device to enjoy the show lead by Yumemi before the electricity runs out. To avoid further spoilers, it is highly advised that fans purchase Planetarian to support Sekai Project in their endeavours of bringing high quality visual novels to Steam.
Musically, the soundtrack was composed by Magome Togoshi with credit for a single piece composed by Shinji Orito under the Key Sounds Label. Both characters, the enigmatic junker and Yumemi, are voiced by Daisuki Ono and Keiko Suzuki who give phenomenal performances as they bring the characters to life in their interaction and conversational dialogues. The accompanied music is very fitting as it ranges from the very whimsical to deeply touching that truly transcend the game experience.
Planetarian is a crowning achievement by Key and one that receives the highest recommendation to visual novel fans worldwide. The game time may be shorter than the more conventional visual novel, but the time spent investing in the experience will leave you wanting for more. In a time when it was once believed to be impossible that visual novels would ever reach the West, Sekai Project has answered the prayers of many fans eager to purchase high quality visual novels from Japan that were previously unobtainable by legal means. Planetarian is a visual novel with heart and one that deserves your undivided attention and consideration.
SCORE – 9.5/10
This review is based on a digital copy of Planetarian on Steam provided by Sekai Project